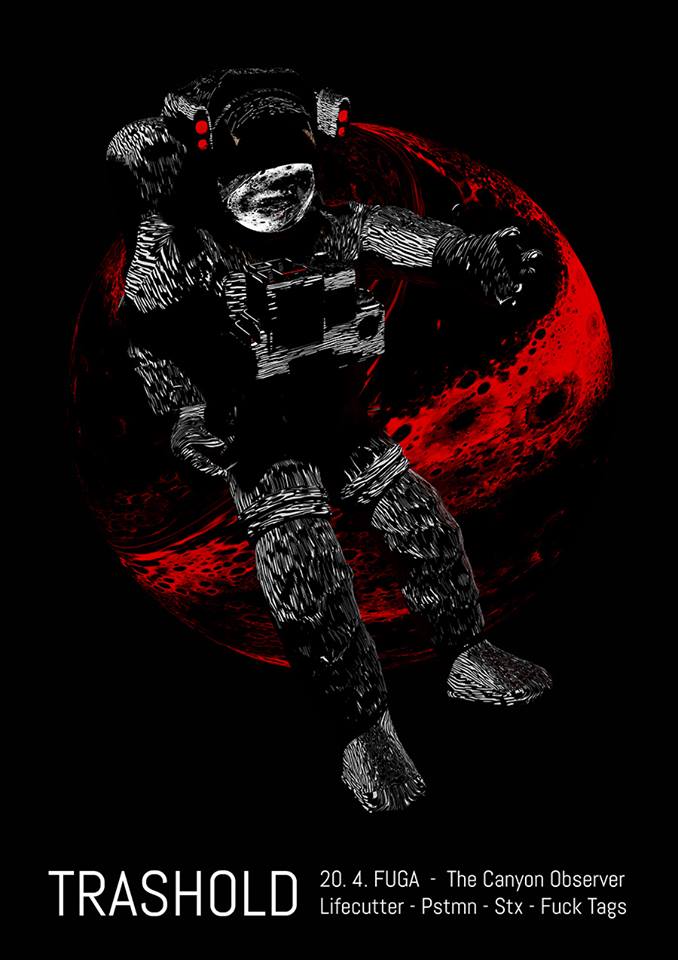 20.4.1972 – Apollo 16, commanded by John Young, lands on the moon.
The Canyon Observer (no-bullshit post-metal sludge beast)
Lifecutter (experimental techno / noise / live-act)
aftermath:
PSTMN / Fuck Tags / Stix
FUGA 20.4.2017
Predpredaj tu / Presale: 5€
Na mieste/On-site: 6€ -> 22:00 -> 7€
Trashold is back.
THE CANYON OBSERVER
The loudest slovenian post-metal band. The core elements are flashing lights and a huge amount of fog, that transports everyone in time and space. Tight guitars are ramming their way through, dark atmosphere and sound shrouds people in intense sludge.
"Fog falls in the Canyon, a thick mist your gaze can't penetrate. Lightning flashes in the distance, thunder rumbles behind it. There's a beast of some sort lumbering around, shrouded in greyness. And then, all hell breaks loose. The wave crashes down and overwhelms you in a storm of noise and flashing light. The Canyon is full of power now. Come along, observe and be blown away."
https://www.facebook.com/TheCanyonObserver/
https://kaparecords.bandcamp.com/album/fvck
LIFECUTTER
Is the moniker name for Domen Učakar, experienced sound explorator with a history in hardcore punk bands. His live-act consists mostly of rich scapes of noise, distorted electronics and heavy effects, while the order of techno and industrial elements come and go, unexpected. The shape of sound is an uncompromising world of intense experimental electronics and sonic deviation. Lifecutter's performance is a must-see.
https://www.facebook.com/lifecuttermusic/
https://lifecutter.bandcamp.com/
aftermath:
PSTMN
Fuck Tags
Stix